Watch the Video: Week 4 of Wicked Women of the Bible Study
It's Week 4 of Wicked Women of the Bible and this week we're studying the most wicked and infamously bad girls of the Bible — Jezebel.
Power is a terrible thing in the hands of a wicked person, but it is worse when that person happens to be intensely religious. ~ Ann Spangler
Doesn't it sometimes feel like the Lord takes far too long to deal with the truly evil people of the world? Wicked people have gained positions of power throughout history. Just in modern times, think of Joseph Stalin, Mao Zedong, Adolf Hitler, Idi Amin, Saddam Hussein, Kim Jong Un, Pol Pot, and terrorist organizations like ISIS. (Our prayers are with the people of Paris this week. May our Lord Jesus bring comfort to all who are broken and devastated by such loss).
So often evil is perpetrated under the guise of religion, just as the cruelties and tortures of the Islamic State. And this was the case for Jezebel as well.
We can't escape evil, but the promise that we have from God – even if it may look like He is slow to act – is that God is a just Judge and He will ultimately say, "Enough!" and bring wicked leaders down.
Evil and craft and godlessness bring their own reward, and the wicked reap what they sow.
2 Thessalonians 1:5-10: All this is evidence that God's judgment is right, and as a result you will be counted worthy of the kingdom of God, for which you are suffering. God is just: He will pay back trouble to those who trouble you  and give relief to you who are troubled, and to us as well. This will happen when the Lord Jesus is revealed from heaven in blazing fire with his powerful angels. He will punish those who do not know God and do not obey the gospel of our Lord Jesus. They will be punished with everlasting destruction and shut out from the presence of the Lord and from the glory of his might on the day he comes to be glorified in his holy people and to be marveled at among all those who have believed.
Jezebel Dies a Horrible Death
Then Jehu went to Jezreel. When Jezebel heard about it, she put on eye makeup, arranged her hair and looked out of a window. As Jehu entered the gate, she asked, "Have you come in peace, you Zimri, you murderer of your master?" He looked up at the window and called out, "Who is on my side? Who?" Two or three eunuchs looked down at him. "Throw her down!" Jehu said. So they threw her down, and some of her blood spattered the wall and the horses as they trampled her underfoot. — 2 Kings 9:30-33
The renowned commentator Matthew Henry said Jezebel was "infatuated with her own fury." Isn't that interesting? What a dangerous obsession! Equally troubling was Jezebel's idolatry.
Baal had no more dedicated devoteé than Jezebel…. From her idolatrous father, a high priest of Ashtaroth, she inherited her fanatical religious enthusiasm which inspired her to exterminate the worship of the true and living God, and almost succeeded in the attempt. (All the Women of the Bible)
Don't you think that if Jezebel was asked if she was an idolator, she would laugh with mockery?  Doesn't that seem to be true for us as well? When we hear the word "idolotry" we don't usually think of our own sins. So often we don't see that truth about ourselves. If it's true that our biggest sins are the one we do not recognize in ourselves, how can we know what we idolize?
As Ann says in the video, "We do have idols in our lives… an idol is anything in our life that comes first before God."
I think that's part of why God intends for us to live in community, to study the Word together, and to pray for our hearts to be softened and open to God's voice.
This week for your personal or group study:
Read Chapter 14 of Wicked Women of the Bible on Jezebel (pages 131-140)
Read Jezebel's story in 1 Kings 16:29-33, 1 Kings 18:1-19:2, 1 Kings 21:1-25, 2 Kings 9.
Enjoy watching the video for Week 4 — provided above.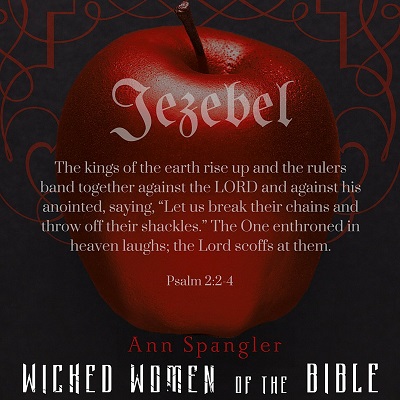 Takeaway Questions
The root of Jezebel's wickedness was embedded in idolatry, which is a distorted form of worship. Idolatry consists of an excessive admiration or devotion to something false. In what subtle or not-so-subtle ways do you recognize idolatry in contemporary culture? What forms might it take not only in the wider world, but also among those in your community, including the Christian community.
What does the lopsided battle between Jezebel's 450 prophets and the lone prophet Elijah say about the nature of spiritual power? How have you experienced God's power at work in your own life despite the odds against you?
What kinds of things tend to function as potential idols in your life — someone or something other than God to which you ascribe ultimate worth? For example, it might be a longed-for relationship, a certain income level or a standard of living, a desired possession, or even allegiance to a particular political party. In what ways, small or large, does this someone or something turn your heart away from God?
Years passed before Ahab and then Jezebel faced God's promised judgment. In the meantime, Jezebel may have lulled herself into thinking she had defied God without consequences. How is her story a cautionary tale about what happens to those who defy God, whether brazenly or more subtly, as sometimes happens today?
Your Turn
Come share with us what you uncover in your study of Jezebel this week! We want to hear from you!
Also, if you just stumbled on this study and want to register and start today, we invite you to sign up here and get your free downloads and weekly study questions.